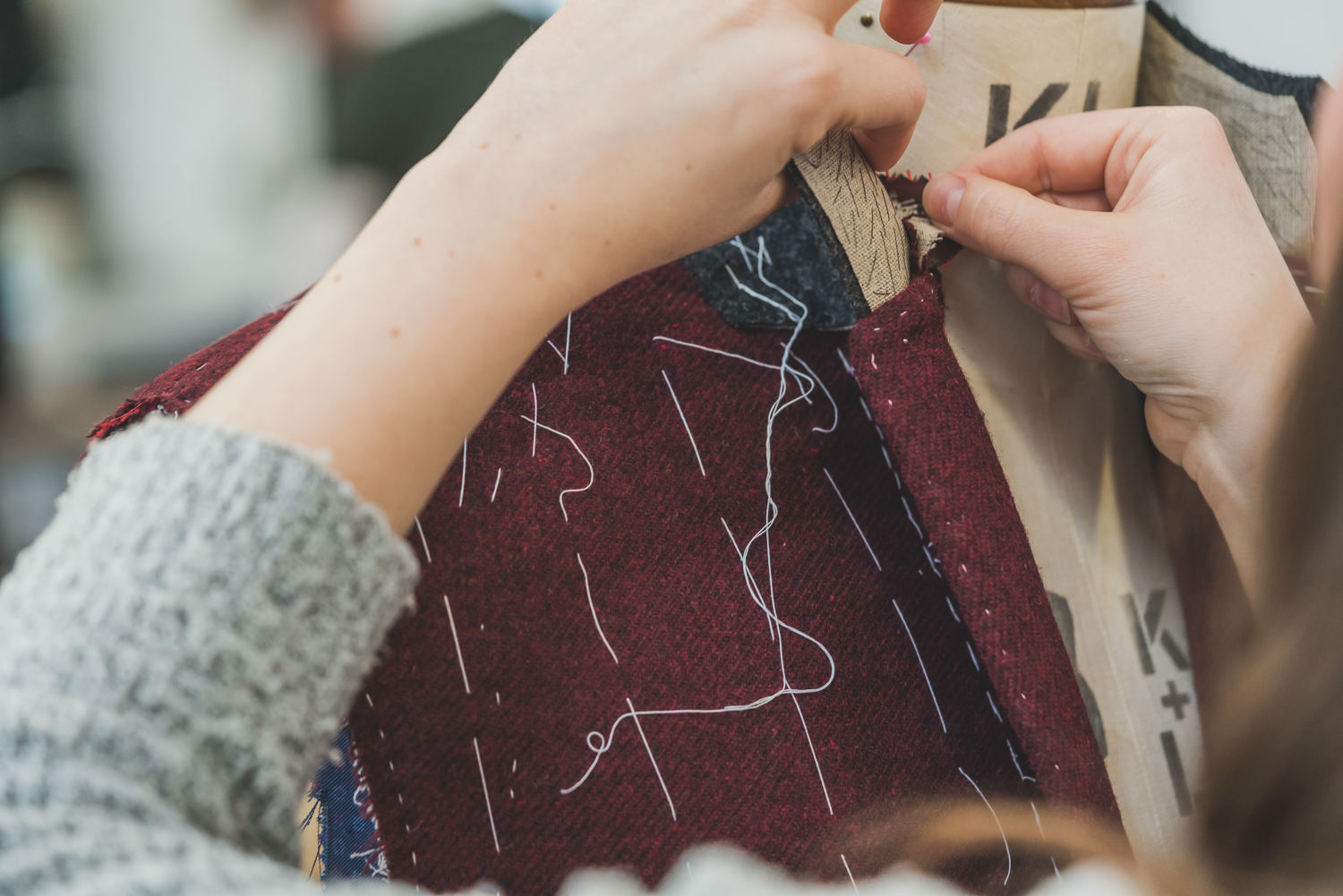 Unusual times call for creative solutions and we are delighted to launch our year long weekly online class, teaching the individual draft, cut and tailoring of the classic bespoke jacket. This is a class for those who are just starting out on their tailoring journey and can't yet commit to a full time programme. Others are on the other side of the globe and can't currently travel. The class will be open to both, male and female figure types.*
Starting this 17th September and running through to 15th July the following year, the course will include 34 weeks of step-by-step lessons. We will guide you through the entire bespoke process, in manageable units. Each  week will see three hours of live tuition in modular form, with the option of interaction with the tutor. An exclusive chat channel will be open for Q & A's between sessions. Each episode will be available for download, should you miss a class.
Sessions will take place every Friday 2 to 5pm GMT (+1) in parallel to our Level 5 Diploma course. Although the online experience can't fully replace learning full-time in the workshop, you will learn all the fundamentals of the bespoke jacking making process. The course will serve those who consider applying for the full qualification as a preparatory year and applications from our online participants will be prioritised for admission to our 2022/23 cohort.
The course fee is £1,795 and includes our exclusive literature guiding you through the drafting process, as well as a variety of written tutorials. The pattern construction system is repeatable with individual measurements and will serve a true bespoke tool you can use over and over again in the future. Renowned cloth merchants Dugdale's have agreed to ship trimmings kits worldwide to participants.
See what US-based fashion historian Julie Eibler and sewing blogger Duane MacLeod said about their experience as participants in our online pattern construction class.
Places are limited and will be allocated on a first come, first serve basis to suitable candidates. To apply, please download and complete our booking form. Payment is only due once we confirm your place.
See below for the full 34-week programme (modules are subject to change).
*Please note this class is suitable only for 'normal' figure types, with a waist measurement that is smaller than the chest measurement (~90% of individuals). Belly figures require a more complex pattern draft, which we may deliver in a separate class at another time. Please get in touch should you require more information.
| | | |
| --- | --- | --- |
| Week | Date | Module |
| 1 | Sep 17 | Pattern Draft |
| 2 | Sep 24 | Pattern Draft |
| 3 | Oct 1 | Cloth preparation & marking & cutting the cloth |
| 4 | Oct 8 | Design, cut and baste assembly of the canvas |
| 5 | Oct 15 | Assembly and shaping of the canvas |
| 6 | Oct 22 | Join canvas to fronts |
| 7 | Nov 12 | Assembly of the back |
| 8 | Nov 19 | Assembly of the sleeves |
| 9 | Nov 26 | Cut, assembly and shaping of the collar |
| 10 | Dec 3 | Join all parts for 1st fitting |
| 11 | Dec 10 | 1st (baste) fitting |
| 13 | Dec 17 | Rip down and mark adjustments |
| 14 | Jan 14 | Implement adjustments part I |
| 15 | Jan 21 | Implement adjustments part II |
| 16 | Jan 28 | Pocket making part I |
| 17 | Feb 4 | Pocket making part II |
| 18 | Feb 11 | Design, cut and assembly of facing and front lining, back lining |
| 19 | Feb 18 | Pocket making part III |
| 18 | Mar 4 | Face and line fronts |
| 19 | Mar 11 | Line backs and join side seams |
| 20 | Mar 18 | Join shoulder seams, add shoulder pads |
| 21 | Mar 25 | Set under collar into neck hole |
| 22 | Apr 1 | Line and finish sleeves |
| 23 | Apr 8 | Set sleeves |
| 24 | Apr 29 | 2nd (forward) fitting |
| 26 | May 6 | Implement final adjustments part I |
| 27 | May 13 | Implement final adjustments part II |
| 28 | May 20 | Design, cut and assemble upper collar, shape with iron |
| 29 | May 27 | Join upper to under collar |
| 30 | Jun 17 | Assemble sleeves in final position |
| 31 | Jun 24 | Hand finish inside and out |
| 32 | Jul 1 | Finishing touches |
| 33 | Jul 8 | Hand button holes |
| 34 | Jul 15 | Final press and buttons |