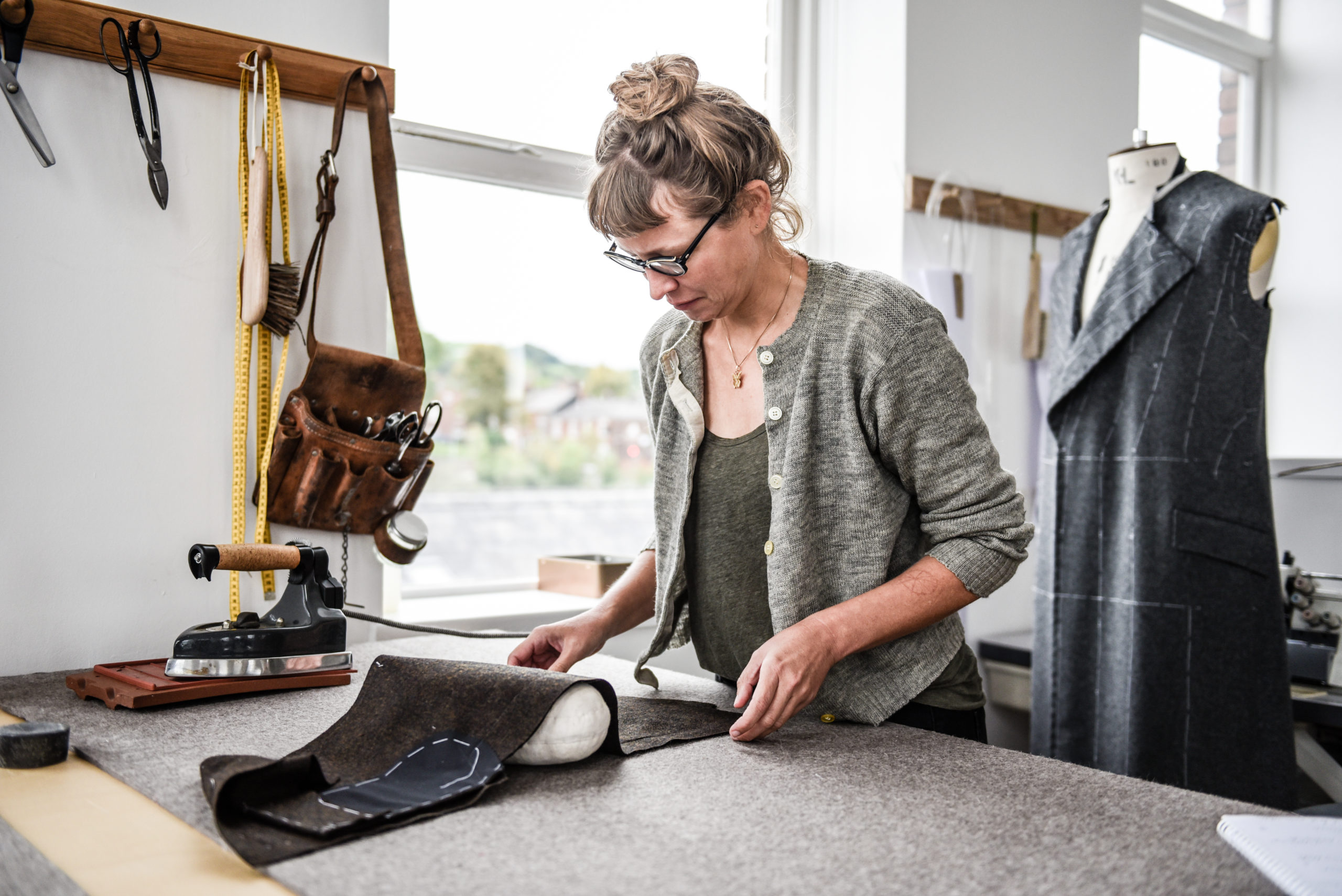 *** Admissions open for 2024/25 ***
The Ultimate in UK Tailoring Training
The Level 5 Diploma in Bespoke Tailoring is the ultimate in UK tailoring training: designed by the Savile Row Bespoke Association and approved by the UK Fashion and Textiles Association, the regulated qualification offers a modern day alternative to the traditional apprenticeship. A Higher Education (HE) programme, it delivers vocational training paired with academic study, with a strong focus on practical skills. Thinking of learning pattern construction from scratch? Of a career in bespoke tailoring, theatre, opera or high end fashion design? This programme may be for you:
The full Skill Set
The traditional apprenticeship presents the learner with the conundrum of having to choose between two specialisms: the cutter OR the tailoring route. Apart from limited professional ambition, the approach exposes age-old gender stereotyping: female candidates are valued only for their patience but not their leadership potential. Consequently they are 'not encouraged' to train as cutters, the client-facing role. The practice may secure the interest of the tailoring house but does not equip learners as fully rounded craftspeople. We don't agree with this approach.
A dual Qualification
As the only UK training provider accredited to deliver the Level 5 Diploma, we offer both pathways to all our students: graduates leave with a dual, globally acknowledged qualification. Also uniquely in the UK, they leave equipped to cut and tailor for both, the male and female figure type. As competent professionals, they are sought after in the bespoke and high-end fashion sectors, stage and film production, or choose to start their own business.
The Schedule
The course runs over 34 weeks from September to July the following year. Students can expect 24 hours contact time between 10am to 5pm Mondays to Thursdays, with an hour lunch break in between. Fridays are voluntary practice days, for students to catch up with their practical and portfolio work. The packed curriculum offers a total of 1,000 hours of skills training and practice time, including:
Bespoke Cost Calculation
Bespoke Pattern Construction
Lay Planning and Cutting
Bespoke Trouser, Waistcoat and Coat Making
Customer Fittings
Hand Finishing
Students typically cut and tailor two complete three-piece suits, one for each figure type, during the course. More information can be found here.
Further Enrichment
Community Tailoring is a voluntary scheme that allows Level 5 students to create bespoke garments for real clients. They learn to cost a bespoke commission, cater for individual requirements like figure, style and materials – and earn while they learn. To enrich the curriculum further, visits to world-renowned West Yorkshire wool mills are organised.
The Fee
£12,000 (incl. VAT) including all materials. Please see our application form for payment schedule.
Who can apply?
British citizens and UK residents, as well as those eligible to enter the UK under the Youth Mobility scheme, can apply*. The Level 5 Diploma is open to candidates of all ages. Whether you are at the beginning of your career or look for a new challenge following retirement, we welcome your application! Candidates need prior experience in garment making, however not necessarily a formal qualification. Use the contact form below to discuss your individual circumstances.
*Overseas students can apply to join our International Programme.
Admission Process
Send us your application and we come back to you within a week.
If we invite you for a subsequent interview, you are shortlisted for a place on the course.
We enrol suitable candidates as they are ready to commit, once offered a place.
Please be aware places are limited to only 12 across our Level 5 and International programmes this year.
You can view further key policies here.
Questions?
Applications for 2024/25 are open. Please get in touch with any queries: