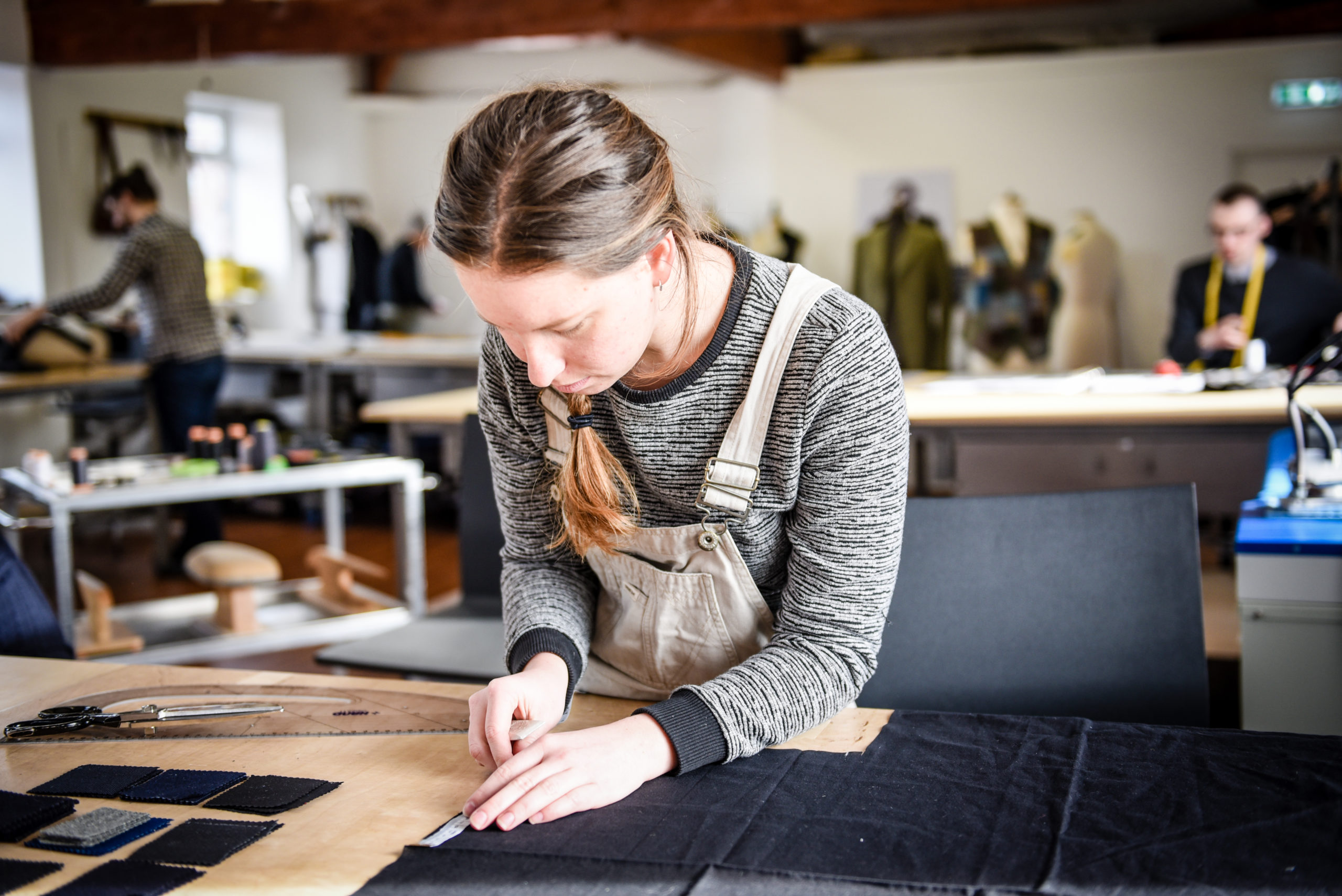 The Ultimate in UK Tailoring Training
The Level 5 Diploma in Bespoke Tailoring is the ultimate in UK tailoring training. Designed by the Savile Row Bespoke Association and approved by the UK Fashion and Textiles Association (UKFT), the qualification offers a modern day
alternative to the traditional apprenticeship: as a Higher Education (HE) programme, it delivers vocational paired with conceptual training on an academic level, however with a strong focus on practical skills delivery.
Thinking of a career in bespoke tailoring, stage production or high end fashion design? Would you like to master the construction of bespoke cutting patterns from scratch rather than merely modify pre-fabricated blocks, as typically taught in fashion and costume departments? Have you always wanted to learn how to tailor a garment entirely by hand, from beginning to end? This programme may be for you:
The FULL Skill Set
The traditional apprenticeship presents the trainee with a conundrum of having to choose between two specialisms: the cutter OR the tailoring route. In addition to the limited educational ambition, female candidates still face the discrimination of gender stereotyping: all too often they are 'not encouraged' to become cutters; they are valued for their patience and willingness to work long hours tucked away in a workshop – but not for their leadership.
The practice secures the interest of the traditional bespoke tailoring house and stifles competition, but does not equip young people with the skills they need to become fully rounded craftsmen and -women. We don't agree with this approach and make sure all students, whoever they are, acquire the full skill set, in a dual qualification that is unique in the UK. And not only do our graduates wear both the cutter and the tailor's hats – they can also cut and tailor for both the male and female figure type. Figure that!
A dual Qualification – the Pathway to Professional Competence
The Tailoring Academy delivers BOTH pathways of the ABC Level 5 Diploma to ALL students, and runs over 34 weeks from September to July the following year. Students can expect 24 hours contact time during core teaching hours between 10am to 5pm Mondays to Thursdays, with an hour lunch break in between. Fridays are voluntary practice days, allowing students to catch up with their practical and portfolio work.
The extraordinary  curriculum offers a total of 1,000  hours of skills training and practice time, including:
Bespoke Pattern Construction
Lay Planning and Cutting
Bespoke Trouser, Waistcoat and Coat Making
Ironing and Shaping
Customer Fittings
Hand Finishing
Bespoke Cost Calculation
Community Tailoring (learn & earn)*
*Community Tailoring is a voluntary scheme that brings Level 5 students and members of the community together, to create individual bespoke items for customers. Students learn to cater for individual requirements, including figure and posture, as well as style and material considerations.
Further Enrichment – Extracurricular Activities
To enrich the curriculum, visits to textile producers like spinning and weaving mills, cloth merchants, museums, exhibitions and other relevant places of interest may be organised. Students are responsible for transport, entry and other related fees. We also occasionally invite textile professionals who are inspirational inspirational in their filed, to share their experience with students.
Who can apply?
Candidates need experience equivalent to a Level 3 in garment making, however not necessarily a formal qualification.
IMPORTANT:  to protect the wellbeing of our staff and students, we will only consider applications from candidates who have been fully vaccinated against the SARS-CoV-2 virus and its variants.
Get in touch if you are thinking about joining us. We would be delighted to discuss your individual circumstances.
Information about the fee and payment schedule can be found on our application form.