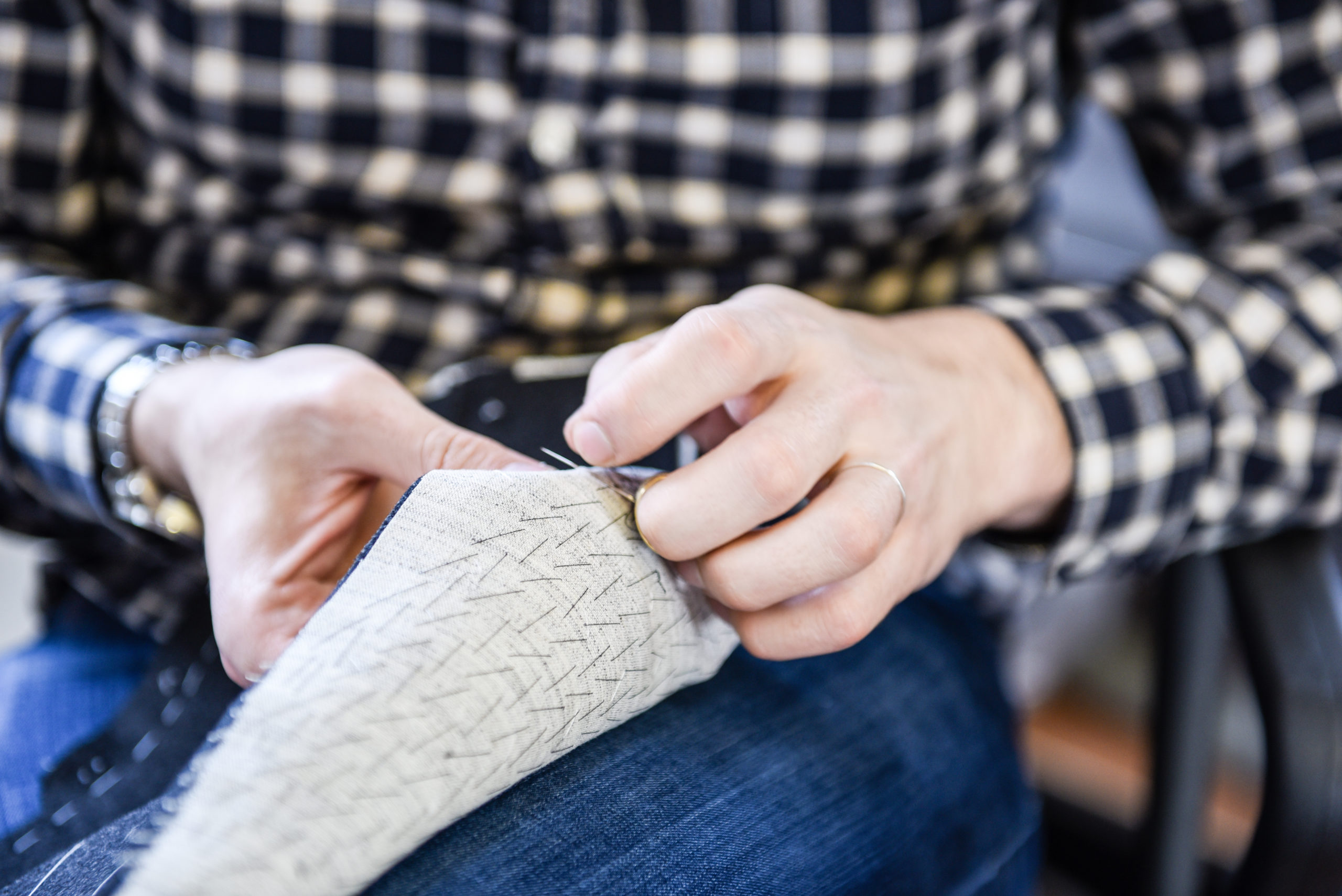 The Tailoring Academy delivers BOTH pathways of the ABC Level 5 Diploma to ALL students, and runs over 34 weeks from September to July the following year. Students can expect 24 hours contact time during core teaching hours between 10am to 5pm Mondays to Thursdays, with an hour lunch break in between. Fridays are voluntary practice days, allowing students to catch up with their practical and portfolio work.
The Academy provides a creative environment to nurture an individual's development and growth, teaching a combination of knowledge and proficiency in process and technical skills, and the creativity and awareness needed to make great garments. Students are expected to use and maintain portfolios to develop their ideas and illustrate their progress as a record of their research work.
Community Tailoring is a voluntary scheme that brings Level 5 students and members of the community together, to create individual bespoke items for customers. Students learn to cater for individual requirements, including figure and posture, as well as style and material considerations.
To ensure the maintenance of a creative and positive learning environment and the successful delivery of the course, students are expected to maintain excellent attendance, timekeeping and organisational skills. A respect for other people and the working environment is essential. Students are also expected to observe and adhere to the policies and procedures of the Academy.
Students are working on their own garments and must purchase their own upper fabrics, lining materials, closures etc. Tailoring trimmings are included in the course fee, or provided at cost if used in a commercial project. Drafting literature and provisions are included in the course fee. The Tailoring Academy is fully equipped with state of the art machinery but students are expected to bring their personal tools and equipment to the course. Safe storage is available for personal items. Information about the payment schedule can be found on our application form. 
The curriculum offers 800 hours of practical skills training, including:
Individual (male and female) Pattern Construction
Planning and Cutting
Bespoke Trouser, Waistcoat and Coat Making
Ironing and Shaping
Customer Fittings
Hand Finishing
Community Tailoring (learn & earn)
To enrich the curriculum, visits to textile producers like spinning and weaving mills, cloth merchants, museums, exhibitions and other relevant places of interest may be organised. Students are responsible for transport, entry and other related fees.
Candidates need some previous experience in garment making, however not necessarily a formal qualification. Get in touch if you are thinking about joining us. We would be delighted to discuss your individual circumstances.