Bespoke Tailoring – a quintessential British Craft
From humble beginnings in 2018, the Academy has enjoyed strong interest from around the globe: half of enquiries for a place on our Level 5 Diploma course are from candidates around the globe, wishing to come to the UK to learn a quintessential British craft, bespoke tailoring. It was frustrating that, due to visa rules, as an independent training provider without state funding, we were not able to enrol international students onto the year-long programme.
We are keen to offer our programmes to all students, no matter where they come from, so we worked hard on a solution that allows everyone to join us for the highest standard in UK tailoring training. The Textile Institute, the British Accreditation Council and the UK Home Office are all playing their part in the process and we are delighted that a solution is now close to being unveiled.
The International Programme
UK Government rules permit international students to visit the UK for study of courses up to six months. From September 2022, the Tailoring Academy will offer two separate short courses, each meeting this requirement:
                         The Bespoke Jacket
Dates:          12th Sep 2022 – 17th Feb 2023
Duration:   18 weeks
Fee:                £5,495 incl VAT
                         The Bespoke Trouser & Waistcoat
Dates:           27th Feb 2023 – 16th July 2023
Duration:    16 weeks
Fee:                 £4,895 incl VAT
Each course is stand-alone in its own right and approved by the Textile Institute, certifying its international relevance. International students will share facilities with our domestic students, but follow their own schedule. Training times are Monday to Thursday 10am to 5pm, Fridays are (supervised) voluntary practice days.
Nurturing their practice further, we will make the workshop available to our international students during holidays.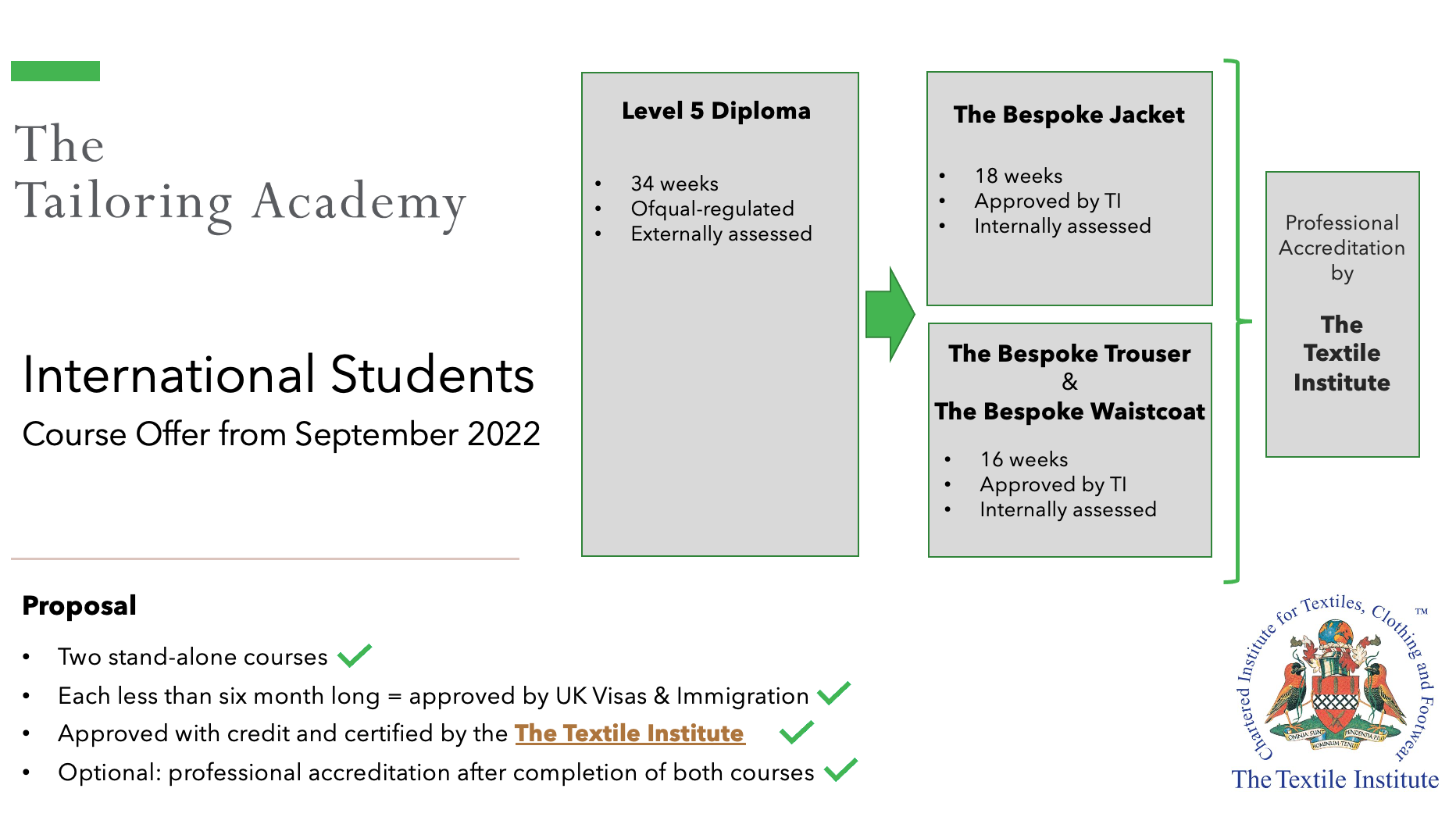 The Curriculum
We know from countless conversations with candidates that practical skills are what really matters to them: the heritage cutting and tailoring techniques that are so hard to find elsewhere! With this in mind, we have designed a curriculum for each course that delivers all of the time-tested practices – the tricks of the trade, for both male and female figure types – whilst also covering highly relevant conceptual areas:
Bespoke Pattern Construction
Supplier and Customer Relation
Lay Planning and Cutting
Complete Tailoring Techniques
Ironing and Shaping
Bespoke Fittings
Hand Finishing Techniques
Quality Assurance
Cost Calculation
Health & Safety
Send us your Application
Whilst we are waiting for the formal approval of the new programme by the Textile Institute, there is nothing stopping you from applying to the course(s) of your choice:
Apply for Course I:    The Bespoke Jacket 
Apply for Course II:  The Bespoke Trouser & Waistcoat
Please email your application to brita@tailoringacademy.co.uk – we will treat it as provisional until final approval is in place, expected in March 2022. You are not yet committing at this stage, but showing your interest, giving us a time advantage as we can schedule your (video) interview early.
Get in Touch
As ever, we are here to answer your questions – just drop us a line using our contact form: